How do I get my kids on board?
This is the most common question I get from parents.  Our boys were 5 and 4 when we started our getting out of debt plan so really, all they have even known is the "Dave Ramsey way".  However, older kids my be resistant to some of the changes so today's tips will focus on getting the kids on board.
1. Talk about your WHY
Tell the kids why you want to pay off debt and get on a budget.  Explain why its important to you and what it would mean for you and the family to be debt free.
2. Make them part of the process.
Depending on the age, the kids could be involved in the budgeting process.  If they work, they can certainly complete their own budget.  If they are younger, they can certainly participate a variety of activities which help you meet your goal.  They can cut and sort coupons, help with meal planning, do jobs to earn commission and then learn how to give, save and spend their own money.
3. Define their "wants" and "needs"
When we began our debt free process, we pulled the boys out of every "extra" activity.   Yes, they were not happy about it but because they were younger, they got over it pretty quickly.   Older kids will have a harder time with just cancelling all the extras.  However, if its important to them, they'd be willing to work for it.  So, that is the second part of the conversation.   The first part is to clearly define wants and needs.  The second part is coming up with a plan for them to work for what they want.  Remember that any money you spend on "extras" for the kids could be going towards paying off your debt so its really important to access wants and needs.
4. Teach Give, Save, Spend.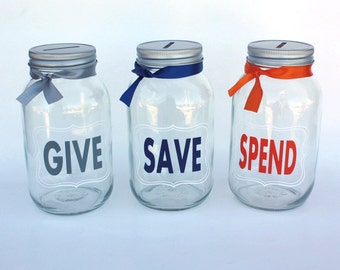 This can be as simple as using three containers.  Older children will need an encouraging reason to divide their money into each of these categories.  Ask them why its important to give and have them choose a Church or charity.  What is something they want to save for?  How much does it cost and how long will it take them to save?  Will you offer a 50/50 split? ( if they save 1/2 you will pay the other half?).  What do they want to spend money on?  What is important to them?
Have these conversations with the kids and get them thinking about what they would do with their money.
5.  Don't give up.
Change is hard.  It's hard for adults and its certainly hard on the kids.  If they have only been used to one way of dealing with money, changing that way is going to be a challenge.  Don't give up on them.   The greatest benefit you are giving your children is creating generational change.  Older kids can certainly learn to understand the concept of "short term sacrifice for long term gain".  Younger kids can certainly adjust more quickly and learn these concepts that will help them build a solid foundation of how to handle money.
Now that our boys are older, we still have the challenge of being "different" with money than "all of their friends".  It's hard.  But, in teaching ourselves to be different with money, we created generational change.  On the days when its hard, we remind ourselves that we DO NOT want to the boys to be in the same financial situation that we were in – deep in debt, living paycheck to paycheck and no plan for our financial future.
Do you need help getting your kids on board with the process?  Contact me and let me know how I can help!